In today's competitive digital landscape, an iOS mobile app is more than just a product—it's your brand's gateway to a thriving mobile audience. Innostax, your trusted iOS mobile app development partner, is dedicated to crafting exceptional, user-centric apps that elevate your brand and drive results. At Innostax, we offer top-tier iOS development services that empower you to harness the full potential of the iOS ecosystem. We are leading iOS mobile app development company for offshore development. iOS apps are a powerful medium for businesses to engage with their audience and stay competitive. With cross-platform development, you can ensure a consistent user experience across various devices, helping you build a strong and unified brand presence. At Innostax, our iOS app development services are designed to bring your app ideas to life with precision and innovation.
Why Choose Innostax for iOS Mobile App Development?
Expertise that Matters: Innostax boasts a team of skilled iOS app developers with a deep understanding of Apple's ecosystem. Their expertise ensures your iOS app is developed to the highest standards.
Customized iOS Solutions: We understand that your app must align with your brand identity and specific user needs. Innostax excels in creating tailor-made iOS apps that offer a seamless user experience and cater to your specific audience. Innostax excels in creating tailor-made iOS apps that align perfectly with your objectives..
Cutting-Edge Technology: Staying ahead in the technology race is our mantra. We leverage the latest iOS development tools, Swift programming language, and frameworks to build apps that are not just functional but also future-proof.
User-Centric Design: Our UI/UX designers are dedicated to creating intuitive and visually appealing interfaces that engage and retain users. We prioritize user experience throughout the development process.
Full-Cycle Development: Innostax offers comprehensive iOS mobile app development services, from concept and design to development, testing, and deployment. We take care of every aspect, so you can focus on your core business.
Timely Delivery: We understand the importance of meeting deadlines. Our project management team ensures that your iOS app is delivered on schedule without compromising quality.
Our iOS Application Development Services:
iPhone App Development: We create sleek and feature-rich iPhone apps that cater to your target audience and business objectives.
iPad App Development: Our team specializes in developing iPad apps that leverage the larger screen real estate for a superior user experience.
Cross-Platform Development: Innostax offers cross-platform development services, ensuring your iOS app reaches a broader audience without compromising on quality. Cross-platform mobile apps are the solution, offering broad compatibility and cost-effectiveness. At Innostax, our cross-platform mobile app development services are designed to help you reach more users while optimizing your development budget.
iOS App Maintenance and Support: Beyond development, we offer ongoing maintenance and support to keep your iOS app up-to-date and performing optimally.
Our iOS Mobile App Development Process:
Requirement Analysis: We start by understanding your project goals, target audience, and unique selling points.
Design and Development: Our experts design and develop your iOS app, ensuring it aligns with your vision and goals.
Quality Assurance: Rigorous testing and quality assurance measures are implemented to identify and resolve any issues or bugs.
Deployment: We manage the deployment process, ensuring a smooth launch and availability on the App Store.
Support and Maintenance: Our commitment to your success doesn't end with deployment. We provide ongoing support and maintenance to keep your iOS app running smoothly.
Elevate your brand's mobile presence and user engagement with Innostax, your trusted iOS mobile app development company. Innostax stays up-to-date with the latest cross-platform development tools and frameworks, ensuring your app is built using the most advanced technology.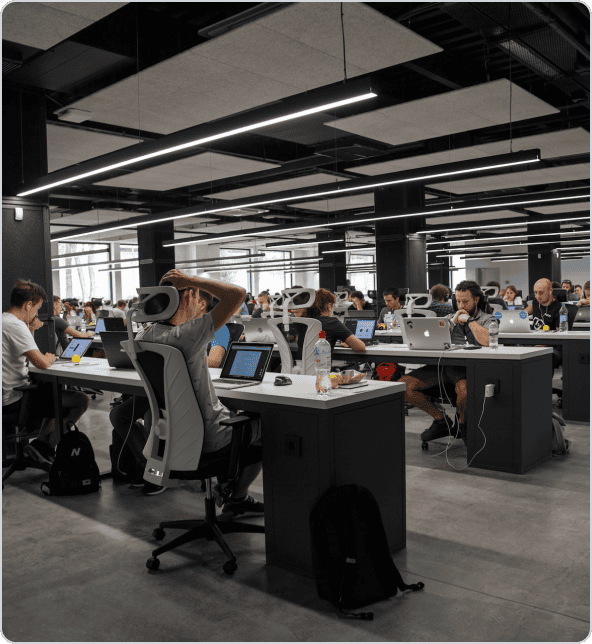 Get a Fast Estimate on Your Software Development Project
We are committed to delivering high-quality IT solutions tailored to meet the unique needs of our clients. As part of our commitment to transparency and excellence, we provide detailed project estimations to help our clients understand the scope, timeline, and budget associated with their IT initiatives.